Miami, FL Focus
CURRENT TV:
Current TV, founded by Al Gore, includes some of the best journalism in America today. In particular their Vanguard series is amazing and should not be missed by ANYONE who wants to know in depth coverage of some of the major stories in the world.
In most areas Current TV is available on:
DIRECTV Channel 358
DISH Network Channel 196
Comcast Digital: Channel 107
AT&T U-Verse: Channel 189
Check out their program schedule here
.
South Florida AFL-CIO:
http://www.sfaflcio.org/
Working and Middle Class Solidarity!
Serving Dade, Charlotte, Collier, Glades, Henry, Lee and Monroe Counties
1525 N.W. 167th St., Suite 450
Miami, FL 33169
Phone: 786-213-3702
Click here for the AFL-CIO Action Center
Click here for upcoming pro-labor events.
MIAMI GREEN DRINKS: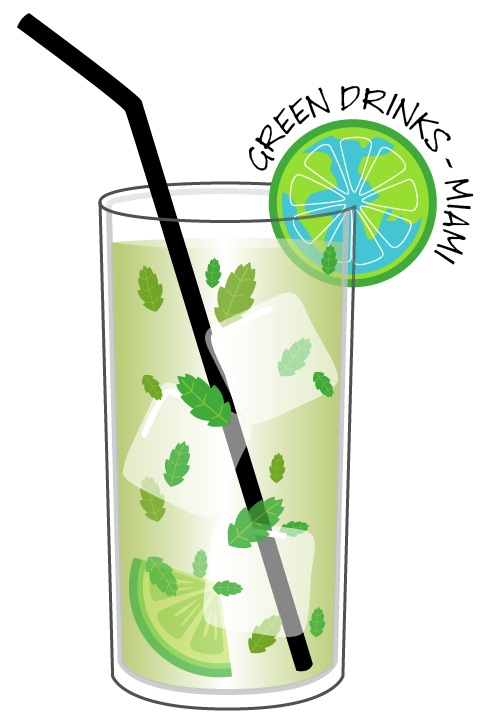 A green social networking group in Miami... are you green yet?
Spreading the green message throughout Miami and bringing environmentally conscious professionals together.
If you work in the environmental field, or your just interested in making the world a greener place, then join us for happy hour drinks, once a month.
follow us on twitter @GreenDrinksMIA
For more info E-mail: GreenDrinksMIA@hotmail.com
ENVIRONMENTAL COALITION OF MIAMI AND THE BEACHES
http://ecomb.org/
ECOMB, an environmental not-for-profit organization founded in 1994, is dedicated to the promotion of environmental sustainability and the preservation of our community's ecology. This mission is carried out through the development and implementation of a variety of educational programs and campaigns in an effort to achieve the following objectives:

* Reduce the amount of litter in Miami-Dade County's beaches, waterways, islands, parks and mangroves;
* Increase the county's residential and commercial recycling rates;
* Promote, preserve and restore coastal habitats, such as our sandy beaches, near shore coral reefs, beach dunes, mangroves, and Biscayne Bay islands and waters;
* Decrease our community's carbon footprint through the adoption of "green" lifestyle practices that are more environmentally sustainable.
Check out their calendar of events here.
LOCAL DEMOCRATIC CLUBS:
Miami Dade Young Democrats
801 Arthur Godfrey Road/41 St Suite 402A
Miami Beach, Florida 33140
www.MDYoungDems.com
Meets last Tues of every month, 6:30 PM for a mixer, meeting begins 7 PM. Food provided.
Click here for their calendar of events
Click here for jobs, internships, and training.
Latin America Democratic Council
11600 SW 69 Avenue
Pinecrest, Florida 33156
Contact: Santiago Leon
Ph: 305.439.4338
santiagoleon@yahoo.com
Miami Cuban American Democratic Club
14332 SW 43rd Ter
Miami, Florida 33175
Contact: Hector Caraballo
Ph: 305.624.4910
hmanuel105@yahoo.com
Haitian American Democratic Club
2875 NE 191 Street, Suite 505
Aventura, Florida 33180
Contact: Mary Irving
Ph: 305.935.5898
maryirving@irvingstaffing.com
Dominican American Democratic Club
17610 NE 7th Ct
Miami, Florida 33162
Contact: America Schroh
Ph: 305.651.8408
schroh@juno.com
All Peoples Democratic Club
18010 NE 10th Avenue
North Miami Beach, Florida 33140
Contact: Thomas Pinder
Ph: 305.651.6557
tkpstate@yahoo.com
Team Network Neighborhood Democratic Club
4824 NW. 15th Court
Miami, Florida 33142
Contact: Mae Christian
Ph: 305.308.4294
felta@bellsouth.net
Democratic Power
9011 SW 142nd Avenue #14-17
Miami, Florida 33186
Contact: Paul Barthole
Ph: 786.201.1166
dectreasurer@gmail.com
Three Villages Democratic Club
P.O. Box 640911
North Miami Beach, Florida 33164
Contact: William Pena Wells
Ph: 305.898.0243
wpw@williampenawells.com
Miami Beach Democratic Club
801 Arthur Godfrey Road #402A
Miami Beach, Florida 33140
www.MiamiBeachDems.com
Meets 1st Tuesdays of each month at 7:30 p.m. in the VFW 1st floor meeting room at 650 West Avenue, Miami Beach.
Biscayne Corridor Democratic Club
1241 NE 87th St
Miami, Florida 33138
Contact: Ken Lipner
Ph: 305.759.1889
klipner@msn.com
Miami Gardens Democratic Club
1925 NW 179th Street
Miami Gardens, Florida 33056
Contact: Edith Owens
Ph: 305.624.4910
eowens179@bellsouth.net
Coral Gables Democratic Club
728 Catalonia Avenue
Coral Gables, Florida 33140
Contact: Janet Nostro
Ph: 305.933.9999
nostro@comcast.net
Redlands Democrats
P.O Box 349138
Florida City, Florida 33034
Contact: John Romano
Ph: 305.733.7663
jkromano@bellsouth.net
Democratic Club of Great Homestead-Florida City
224 Washington Avenue Suite 11
Homestead, Florida 33030
Contact: Patricia Mellerson
Ph: 305.383.2496
pat4141@bellsouth.net
Sunny Isles Beach Democratic Club
231-174 Street #1804
Sunny Isles Beach, Florida 33160
Contact: Tony LoCastro
Ph: 305.931.2073
alcastro7@aol.com
Democratic Club of South Dade
8440 South Dixie Hwy.
Miami, Florida 33143
Contact: Robert Goldstein
Ph: 305.970.9734
robertgrimm62@yahoo.com
The William Lehman North East Dade Involved Democrats
20100 W Country Club Drive Apt. 202
Aventura, Florida 33180
Contact: Arthur Grossman
Ph: 305.932.0042
nedid202@aol.com
Liberty City
7631 Nw 17th Avenue
Miami, Florida 33147
Contact: Lottie Hines
Ph: 786.355.0348
hines_lottie@yahoo.com
GREEN BUSINESSES IN THE MIAMI AREA:
Coverings ETC
Specializes in the sustainable hard surface design finishes that showcase 'green' attributes with recycled content and superior life cycle assessment factors.
7610 N.E. 4th Ct. Miami, Florida, United States 33138
phone: (800)720-7814
fax: 305)757-6100
website: www.coveringsetc.com
Global Trends, LLC
A distribution and public relations company with a showroom representing both established and up-and-coming accessory and fashion designers from around the world.
1110 Brickell Ave. Ste. 806 Miami, Florida, United States 33131
phone: (305)374-6777
fax:(305)577-0877
website: http://www.globaltrends.biz
Earth-Saver Bags
Manufactures organic cotton and cotton jute bags for supermarkets and stores - all natural fibers.
20725 NE 16th Ave. A-17 North Miami Beach, Florida, United States 33179
phone: 305)493-3940
fax: (305)493-3943
website: www.earth-saver.com
Atlantis Natural
Breastfeeding supplies, swaddling, safe and natural toys, organic food, organic cotton children's clothing, natural supplements, skin and dental care, EMF protection. Store, library, and directory.
1750 N. Bayshore Dr. Unit 1902 Miami, Florida, United States 33132
phone: (877)852-8558
website: www.atlantisnatural.com
Bamboobarry.Com
Bamboo building materials, fencing poles, plywood, molding; offering design build services, shade structures, lawn and garden, and much more.
7235 N.E. 4th Ave Miami, Florida, United States 33138
phone: (305)758-9444
fax: (305)758-9446
website: www.bamboobarry.com
Eco Artistic Products
Exquisite eco-friendly wholesale jewelry, hair accessories, rosaries, and jewelry boxes crafted from gorgeous and unique exotic woods found on the floors of tropical rainforests.
6538 Collins Ave. Ste. 376 Miami Beach, Florida, United States 33141
phone: (305)861-1168
fax: (636)660-1168
website: www.ecoartisticproducts.com
BACK TO PROGRESSIVE DEMOCRAT NEWSLETTER MAIN PAGE