New Jersey Focus: Green Power Switch
Here's a program to help New Jersey residents make the switch to green energy. The cost is generally less than 3 cents per kilowatt-hour more than you currently pay for energy. By participating you contribute to reducing carbon emissions, cleaning up New Jersey's environment, and stimulating New Jersey's economy. Three important ways of helping your local community, local environment and local economy, all for less than 2 cents per kilowatt-hour of energy you use. When my wife and I made a similar switch in New York, we barely noticed the difference in our energy bill. We also switched to compact fluorescent bulbs at the same time and the energy savings reduced our bill by one-third even with the small increase from buying green energy. Together, we reduced our carbon footprint by about 30% while overall saving money. I highly recommend the switch.
New Jersey has three options for Green Energy for your home, of varying cost and "green" quality all available through your utilities. You can compare them here: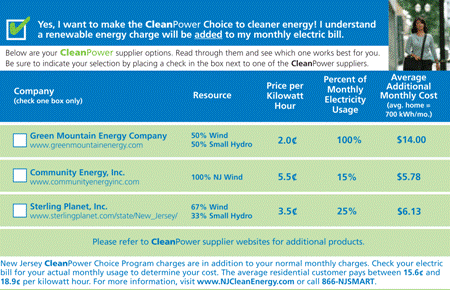 For more info on each:
Green Mountain Energy Co.
800-810-7300
Community Energy, Inc.
866-WIND-123
Sterling Planet, Inc.
877-457-2306
Download the CleanPower application
and mail it to the CleanPower Choice Program, C/O Honeywell, 145 US Highway 46, Wayne, NJ 07470. It's a quick and easy way to start improving New Jersey's air quality while also creating local jobs.