Progressive Democrat Issue 236
Well we have a Health Care bill from the House...it isn't ideal, but it is certainly progress. Now we have to get our Senators to do THEIR jobs. I continue the healthcare reform focus in many of the local sections of the newsletter. Get involved and make sure that the final bill that comes out of Congress has a good Public Option and DOESN'T have the anti-abortion BS that Stupak (a Dem, no less!) put in.
Over at Daily Kos there was a wonderful photo diary showing President Obama's spontaneous walk through the section of Arlington National Cemetery where the Iraq and Afghanistan war dead are being buried. Seeing the photos of a clearly serious, thoughtful man I felt such relief that our country is free of that horrible smirk that ran our country for 8 years (really ran it into the ground).
We went from this:
(
Bush and McCain partying while Americans died in the aftermath of Hurricane Katrina
)
to this: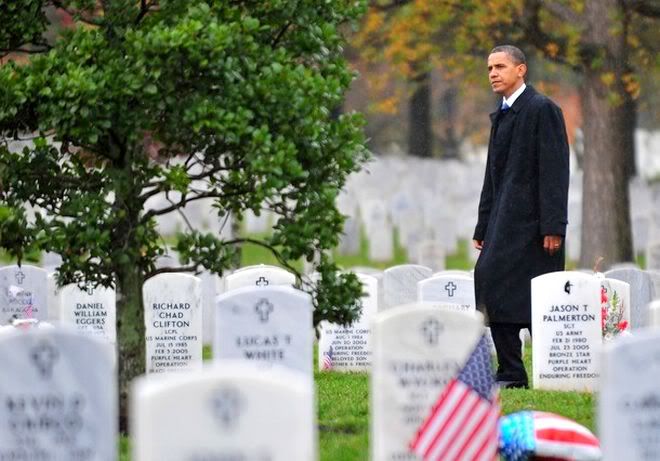 (image from Daily Kos article)
And that image of President Obama immediately brought to mind an image from the early years of photography, one of the best presidential images ever:
(image from
photobucket
)
There is something about both pictures--a kind of sad dignity and serious determination--that strikes me as similar.
Here is this week's newsletter:
TABLE OF CONTENTS:
Who needs healthcare reform? Texas leads the pack!
Sequoia Voting Systems Comes Clean
Healthcare Champions vs. Anti-Choice Democrats
Reminder:
American Corn Association Comes out for Healthcare Reform
Renewing America: Democrats Work
Silicon Valley Area, CA Focus
Orange County, CA Focus
San Diego, CA Focus
CALIFORNIA FOCUS
Brooklyn, NY Focus
Queens, NY Focus
Bronx, NY Focus
NEW YORK STATE FOCUS
Texas Needs Healthcare Reform!
Austin/Travis County, TX Focus
Dallas County, TX Focus
Houston/Harris County, TX Focus
TEXAS FOCUS
Atlanta, GA Focus
Fayette County, GA Focus
Coweta County, GA Focus
GEORGIA FOCUS
Warren County, NJ Focus
Sussex County, NJ Focus
Passaic County, NJ Focus
NEW JERSEY FOCUS
Two More Progressive Wins in Washington State
WASHINGTON STATE FOCUS
PENNSYLVANIA FOCUS
Virginia Organizing Project Supports Healthcare Reform
VIRGINIA FOCUS
Latest from Alex Sink for Florida Governor
Florida Alliance for Retired Americans on Healthcare Reform
FLORIDA FOCUS
Michigan Congressman John Conyers: Public Option Is Necessary
MICHIGAN FOCUS
ILLINOIS FOCUS
ARIZONA FOCUS
MINNESOTA FOCUS
IOWA ACTION: Help protect air quality in northwest Iowa
IOWA FOCUS
Wisconsin for Healthcare Reform: Facts and Actions
WISCONSIN FOCUS
Colorado Senator Bennet On Healthcare Reform
COLORADO FOCUS
Nevada: Public Option Model that SAVES Money
NEVADA FOCUS
North Carolina Justice Center: Myths About Health Reform
NORTH CAROLINA FOCUS